Generic Request Related Requests Module
Generic Request Related Requests is a module of the Generic Request application developed by the Center of Research & Development company. It allows you to establish the links between requests.
---
You can enable or disable the use of this module in the settings. To do this, take the following steps:
Click Requests on the left dashboard menu.                                                                                                                                                                                                                                                                                                                                 


Under the Configuration menu click Settings.                                                                                                                                                                                                                                                                                               


The Settings page opens.
Scroll down to find the Documents Related to Requests option and select or clear the checkbox.
Click Save on the left at top.                                                                                                                                                                                                                                                                                                                                                                                                                                                                     
---
---
Go to the requests page. To do this click Requests -> All requests in the upper menu.

Select and click one of the requests.
On the request form under the Action drop-down menu click Manage related requests.

A window opens where we can add the related requests the current request. 

Click Search more to get the full list of all request created. Select from the one you want to associate with this request by ticking. Click the Select button. Here, you can create a new requests by clicking the Create button.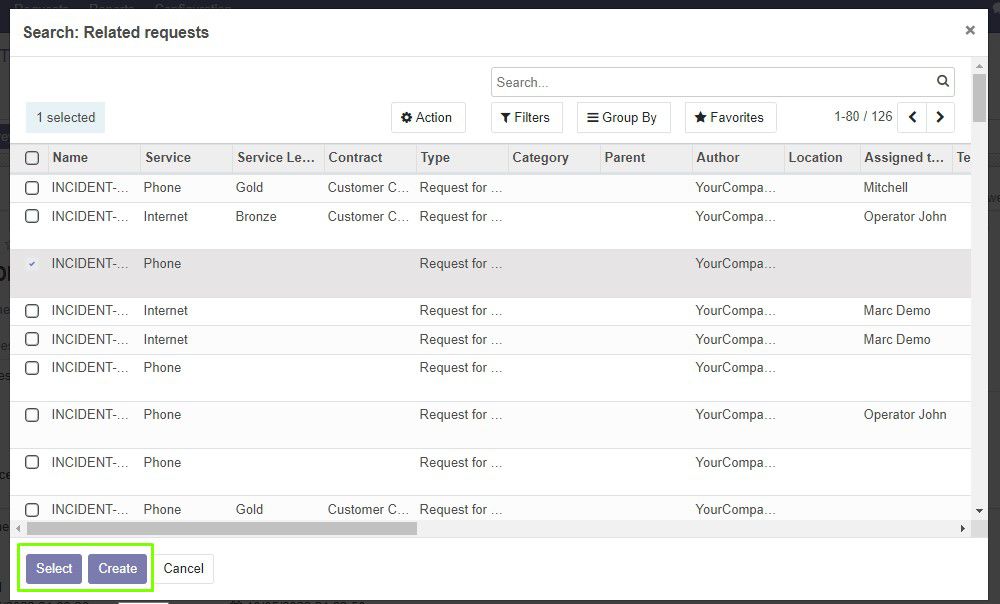 On the Manage related requests window click Ok.

---
On the request form on the right at the top you will see a new tab - Related Requests.

The digit next to the upper button shows the number of related requests that are related to this one. By clicking the Related Request button you will go to the related requests page. You can also create, edit, delete requests here.