Generic Request Stage Type (SLA) Module
Generic Request Stage Type (SLA) addon is now part of the Generic Request SLA functionality and does not require installation.
It provides the ability to add information about global request stages while logging and use them to group entries while reviewing.
Go to the SLA Log page. To do this, click the SLA Log option under the Reports menu.

Here, in the list view mode, you can see a new Stage Types column, that indicates the global stage type of requests.

In the table (pivot) view mode, you can now also see the information about the stage types of requests.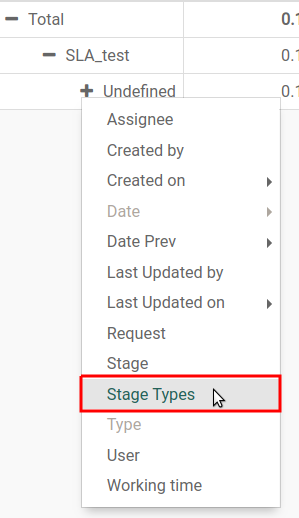 You can now also group entries by request global stage types by selecting the Stage Type option in the Group By menu.

You can read additional information on the global Stage Types in the instruction to the Generic Request Stage Type module.
Additional information about SLA and logging you can read in the Generic Request SLA and Generic Request SLA: Log instructions.