Generic Request SLA: Log Module
Generic Request SLA: Log is a module of the Generic Request application developed by the Center of Research & Development company. The module adds the ability to log and report actions that occur with requests. To get full functionality it is recommended to use the Generic Request SLA: Log and Generic Request SLA modules in pair.
---
You can enable or disable the use of this module in the settings. To do this, take the following steps:
Click Requests on the left dashboard menu.                                                                                                                                                                                                                             
                                                                                                  

Under the Configuration menu click Settings.                                                                                                                                                                                                                           

The Settings page opens.
In the Service Level Agreements menu group select or clear the Log Service Level checkbox.
Click Save on the left at top.
---
After installing the module, any events that occur with the request (for example change of the stage or assigned person) will be recorded in the log.
On the request type page you can see a new SLA Log button. The number on the button shows the number of actions that were performed with requests of this type. Click SLA Log to view the log.
---
You can view general reports on requests by clicking SLA Log under the Reports menu.
Here you can see detailed information for all the request's events, namely, how many and at what stages was the request, how much time request was at one stage or another, when the responsible person was assigned or changed, who and when created the request, and so on.
Table or list view modes available. You can change this modes by clicking appropriate buttons on the right at top.
In the table view mode, click the Measures drop-down menu on the left at top to select which data will be counted and displayed.
If you click the

sign next to any table element, a menu will appear where you can choose more precise data to display.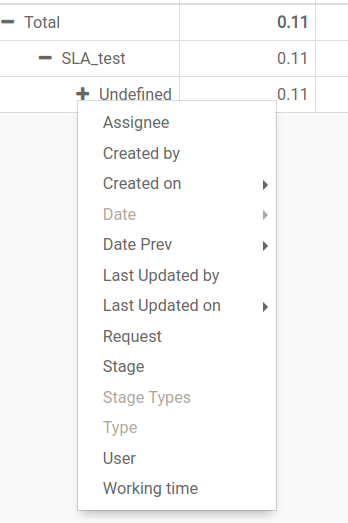 Clicking the

sign next to the element hides all additional information for this element.
You can save the custom table in xls format by clicking

on the left side above the table.
For more convenient work, click the Group By drop-down menu and choose options to group the requests.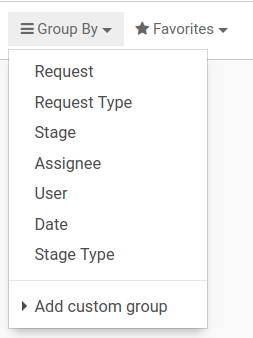 More detailed information on the SLA you can read in the Generic Request SLA instruction.